Details
Bunker Hill Village Offers Internship
Join our Team ... for the Summer!
The City of Bunker Hill Village is once again seeking a Bunker Hill College Student to join the City as our Summer Intern. Students working toward a degree in Business, Engineering, Government, Public Relations and /or Public Administration are preferred. As a small city, the projects and experience will be very broad and tailored to the selected applicant. Working hours are typically Monday through Friday during normal city office hours with some extended days possible for observing City Council Meetings, the City's Municipal Court proceedings, and budget preparation. There will also be an opportunity to assist and participate in the Village's Independence Festival on July 4.
This is a paid position.
Interested applicants should provide a resume and submit an employment application.
The first round of interviews will be scheduled in March. We will work around an applicant's calendar to schedule an interview.
For more information, you can contact
Karen Glynn, City Administrator
713-467-9762
This email address is being protected from spambots. You need JavaScript enabled to view it.
Details
In an effort to better address code concerns, the City Council has passed a "Vacant Property Ordinance" as recommended by the Planning and Zoning Commission. Click here to read the approved ordinance.
Vacant properties have been the focus of code enforcement efforts in the City. This includes high grass, vandalism, and concerns/complaints from surrounding property owners. Effective January 2020, an annual registration and fee will be required to ensure the City has the best contact information and can better resolve these concerns.
More information will be forthcoming in addition to the opportunity to register online.
Thank you.
Details
The City of Bunker Hill Village invites our residents to join us to participate in various City Opportunities.
Join our Boards, Commissions, and Committees
Learn what you can do for our City.
Please see below to see openings we are working to fill:
Details
Bunker Hill Village Honors
Mayor Jay Williams
Public Servant of the Year
Clara Towsley
Resident of the Year
Susan Jackson
Volunteer of the Year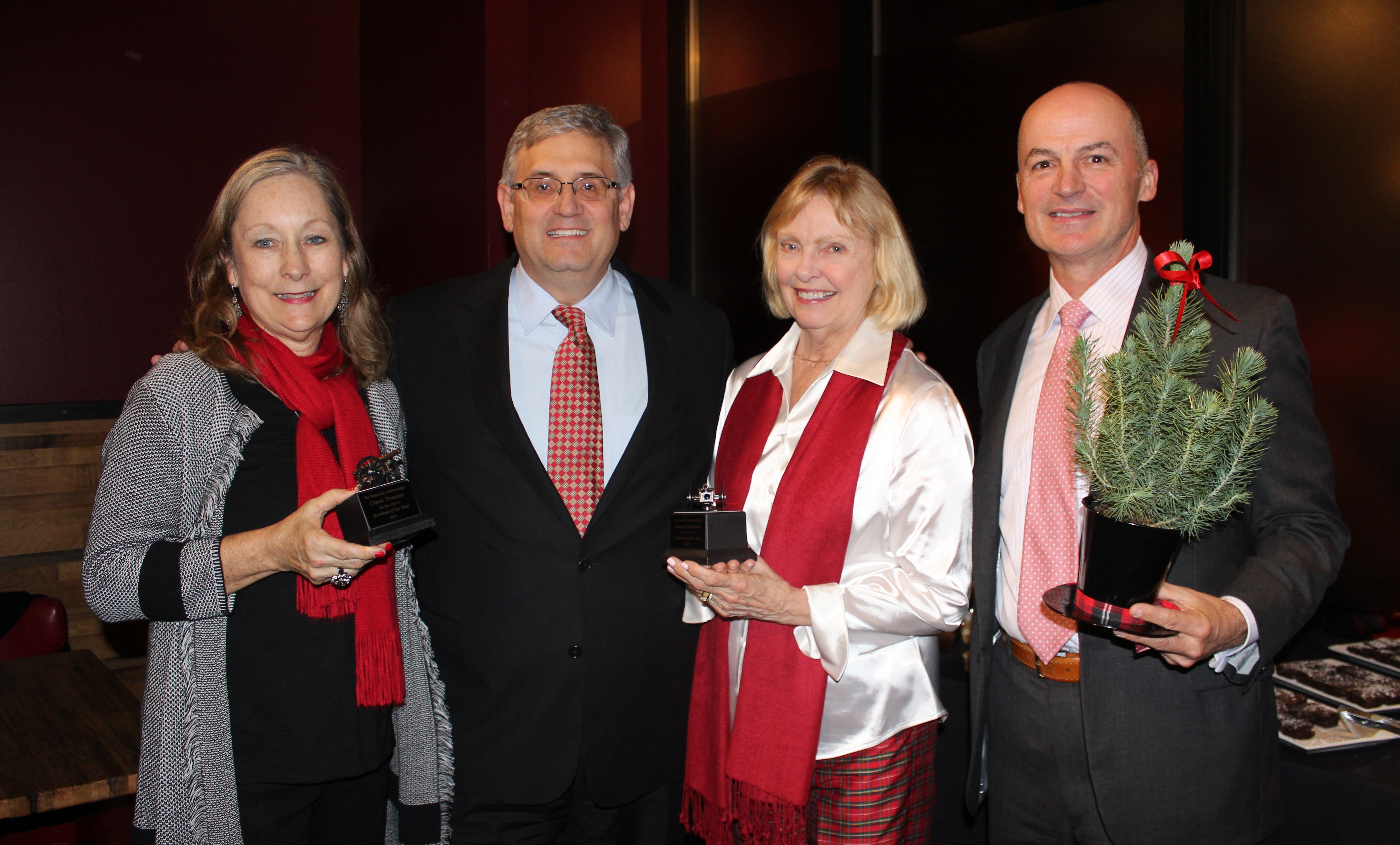 Pictured Above - left to right: Clara Towsley, Mayor Robert Lord, Susan Jackson, and Former Mayor Jay Williams.
The City of Bunker Hill Village recently honored Former Mayor Jay Williams as the City's Public Servant of the Year at the City's annual holiday reception. The City also recognized Clara Towsley as the City's "Residents of the Year" and Susan Jackson as "Volunteer of the Year."
Each of these recipients have played an intrigal role for our City. Jay Williams served as Mayor from 2013 until 2019 and as a Councilmember for two years prior to that.
Bunker Hill Resident of the Year, Clara Towsley served as the City's Election Judge this year. She has also served and been on-call for previous elections.
Susan Jackson, Volunteer of the Year, manages our City Hall Art Program. Susan continues to keep the walls of City Hall filled with beautiful art for all to enjoy!
The City Council is pleased to hold their holiday reception on an annual basis to thank and recognize the many volunteers that make Bunker Hill Village a great place to live.
Details
City Council has adopted a resolution to Adopt Policies and Procedures for Notices and Grievances Under the Americans with Disabilities Act